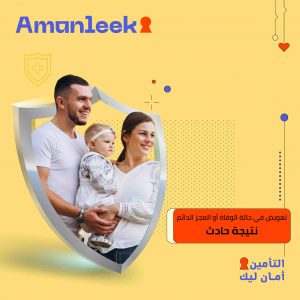 Personal accident insurance: covers you in case of death or disability caused by an accident
Calculate your subscription online 
---
Learn more about personal accident insurance:
How Much will insurance company compensate in case of death?
In case of death caused by accident insurance company will pay 30,000 EGP for the first plan and 60,000 EGP for the second plan, based on your choice.
Will my medical expenses be covered in his plan?
Insurance company will cover medical expenses related to accidents only with a maximum of 3,000 EGP per person a year.
What is the age limit for this coverage?
All members in the age band of 16 to 65 years old are eligible for coverage.
What coverage do I get in case of disability?
In case of permanent disability caused by an accident, you will get the full amount of coverage (30,000 / 60,000) as long as it is a total permanent disability, but in case of partial permanent disability you will get a percentage from the insurance amount, temporary disability is not covered.
Is natural death covered in this policy?
No, only death cases caused by an accident are covered in this policy.
How can I get this coverage and what are the documents required?
You simply submit your request in the form above then our team will contact you and proceed in issuance, the document required is a valid National ID